<![if !vml]>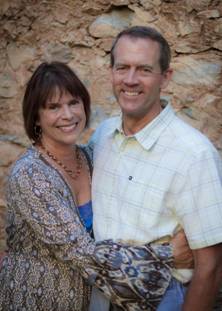 <![endif]>
Therese and Steve May
Fourteen years ago Steve and I
were given a loom, bought a book on weaving and began to explore making cloth. We collaborate on our projects, Steve with the mathematical details while I focus on color, warping the looms and weaving. We weave dishtowels, table runners, wall art, rugs, scarves, baby blankets and adorable felted purses for our grand daughters. We visit yarn stores wherever we travel because finding, touching and envisioning the textile in a project is fun and inspirational.
Steve and I enjoy the design challenges, the endless choices of fiber, the lovely feel of textiles and the meditative quality a weaving rhythm offers. There are also many surprises in weaving and each new project provides a new learning experience. We have been fortunate to be mentored by the local weavers of the Mother Lode Weavers and Spinners Guild.
We have three floor looms that usually have very different projects on them. The basic purpose of any loom is to hold the warp threads under tension to facilitate the interweaving of the weft threads. The precise shape of the loom and its mechanics may vary, but the basic function is the same. Weaving is done by intersecting the longitudinal threads, the warp, i. e. "that which is thrown across", with the transverse threads, the weft, I. e. "that which is woven".
We live near Murphys and enjoy sharing the art of weaving with our grandchildren and in local schools.
To view Steve and Therese's work please click here