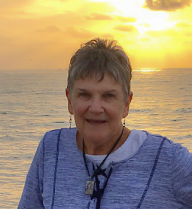 Barbara Hardwick
I was born in Selma, CA and raised there on a small family owned farm.
My parents were hard working, productive people who expected the same from their children.
Learning and creating seemed to be a part of everyday life, so it's not surprising that I was introduced to quilting,
sewing and embroidery at an early age. My maternal grandmother, Leela Griffin Huckabay,
was a quilter and I am proud to still have some of her quilts. My mother, Altha Hardwick,
was a beautiful seamstress, sewing most of my clothing, including formals.
I began to hone my sewing skills by embroidering dishtowels and pillowcases while still in grammar school.
In high school I did some sewing in Freshman Home Economics and didn't sew again until I married in 1968.
This marriage produced my three children and my very first sewing machine,
a wedding gift from my brother, Jim, and his wife Betty.
It was also in 1968 that I began teaching high school and coaching tennis in Newbury Park, CA.
As my family grew, we began to look for a smaller community in which to raise our children,
moving to Angels Camp in 1973. I took six years off from teaching, but along with raising 3 children
I started oil painting, tole painting, knitting, crochet, and counted cross stitch while continuing to sew, mostly clothing.
In 1978 I returned to teaching Physical Education as well as coaching tennis and volleyball at Bret Harte High School.
Soon Freshman Home Economics was added to my teaching schedule, and among other things I was teaching sewing.
In 1982 Ginger Duffy opened The Country Cloth Shop in Angels Camp. There I began taking classes and expanding
my knowledge by making a variety of things, not just clothing. Later in the 80's I added doll making to my skill set
and was obsessed with this craft for several years.
Before retiring from teaching in 2005, I taught at a "small necessary high school" in Copperopolis.
My assignments were English, History, and Arts & Crafts, the latter right up my alley.
Looking for ways to engage disinterested students inspired me to explore a multitude of media
including painting, marbling, paper making, beading, sewing, and monoprinting, many of which
I now find myself incorporating into my quilts.
Joining the Sierra Quilt Guild gave me the opportunity to take classes from renowned teachers such as Sally Collins,
Rosemary Eichorn, Laura Nownes, Sue Spargo, Jenny Lyon, and Judy Niemeyer just to name a few.
In the last few years I have become more interested in the modern quilt movement and creating mixed media art.
Travel, art, and gardening are among my favorite pastimes. I am a member of Studio Art Quilt Associates,
Modern Quilt Guild, Sierra Quilt Guild, and Calaveras County Arts Council.
To view Barbara's work please click here