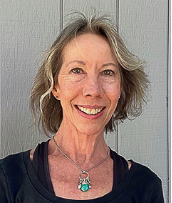 Gail
Szukalski
I have been making jewelry for the past 30 years,
finding peace in the creative process.
My style has evolved over time, but I am always
inspired by color and shape. I work mostly in
sterling silver-fusing and hammering the silver,
making my own ear wires, and adorning the
pieces with gemstones, beads and one-of-a-kind finds.
My more recent creations are mandalas painted on rocks.
Combining different color palettes and designs in unique
and pleasing ways is an ongoing challenge that I love.