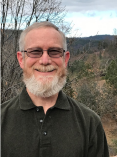 Gregg C. Hart
Gregg was born and grew up in Southern California,
moved to Calaveras County in 1984 and currently lives in Murphys, Ca.
Working as a Sheet Metal Contractor, he discovered his love for metal art.
He works with a variety of metals (but prefers copper)
because of its unique properties. Using just the flame from different torches,
he "paints" a variety of colors and patterns. The colors can be different from
day to day depending on air temperature, humidity, pressure and
contaminants in the air, so every piece is one of a kind.
He has won 1st place and best of division awards at the Calaveras County Fair.
To view Gregg's work please click here