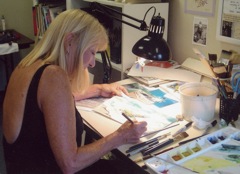 Martha Wallace
Born in the Bay Area, Martha spent her youth in
Castro Valley. She studied art in High School and
College and started painting in watercolor in 1975.
Martha and her husband and children settled in the
Arnold area in 1977. She was fortunate enough to
spend 8 years studying watercolor with Dorner
Schueler. She also has studied with various well
known watercolorists over the years, each giving
her new insights into this exciting medium.
Martha has worked in many art mediums, including
pen and ink, acrylics, collage, and watercolor. She
now works basically in watercolor and collage. Her most
recent works include the beauty that surrounds her
in this area and the areas that she is lucky enough
to travel to.
Martha has exhibited in the Calaveras and Tuolumne
counties of northern California. Her paintings are in
many private collections all over the world. Martha
exhibits her work at Art on Main in Murphys,
Timeless Home Gallery in Arnold, and
Copper Town Art Center in Copperopolis. She opens her
private studio in Murphys to the public at the end of
September for the Open Studio Tour.
Since 1985 Martha has been involved in giving private
art lessons to children and adults in Calaveras county.
She also is hired by many schools to give watercolor
lessons on an hourly basis. Martha feels very fortunate
to be making a career in something she truly loves.
Martha continues to live in Arnold and has a private
studio in Murphys.
To view Martha's work please click here