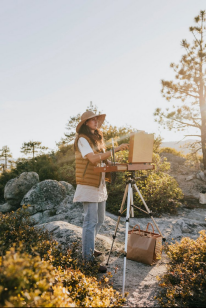 Sally Anne Fischer
Sally Anne Fischer is a plein air artist whose ties to the Sierra Nevada foothills spans five generations.
From her great great aunt Lottie, who mothered lonely cowboys in Kennedy Meadows,
to her Portuguese watercolorist grandmother, Sally Anne Fischer's deep roots in the landscape
she paints has allowed her to explore luxury in simplicity and beauty in nature.
Sally Anne studied first watercolor with Dan Peterson at Yosemite College, then oil painting at
Fresno State University, while also completing a degree in equine science. After university,
she worked as a livestock feed formulator but ended up in the wine industry.
As the pandemic wore on, she turned from wine to full-time painting, eventually opening a studio
in downtown Sonora, though she credits most of her artistic development to plein air workshops,
including those with California painters Chuck Waldman and Jim McVicker.
Her current work reflects daily experiences mixed with emotions and memories.
Still-lifes include objects of personal significance, and landscapes with historic meaning or childhood memories.
As she resides in her hometown, with her husband and her daughter, she has inspiration and local knowledge
of the sprawling terrain that makes up the Sierra Nevada mountains.
Sally Anne values high quality, handmade or antique frames, which she refurbishes in her downtown studio.
While she primarily works with oils en plein air, she also uses the sun room of her 1940s home to paint every morning.
Visit her website at www.sallyfischerartist.com