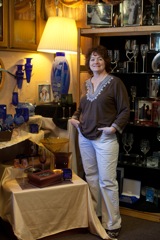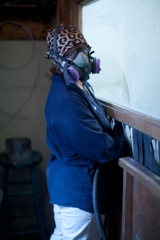 Shirley Wilson
Shirley Wilson-Rose moved to Tuolumne County as a young child. She attended Twain Harte Elementary school and Summerville High School where her love of art was developed. In high school and as a young adult, Shirley doodled in many arts and crafts mediums.
In 1979 an opportunity to make art her profession arose and Wilson Studios Etched Glass was born. Without any formal training, Shirley launched into her new business with a "how to book" and borrowed equipment. Soon after Shirley was working the "Craft Fair" circuit selling decorative glass wares and small windows. By the next year, her work was appearing in residences and commercial establishments throughout the country.
Shirley's love of nature is evident in her custom designed art pieces where she specializes in flora and wildlife, with a flair for detail and realism. Shirley is always excited to try a new and challenging design in any style.
Each art piece is custom designed and created by placing the drawing onto a resist material. The resist is then adhered to the glass and the design is cut with an exact-o knife. The glass is then placed into a sandblasting room where piece by piece of the resist is removed and the exposed glass is shot with pressurized fire sand. The process creates a shaded or carved design upon the glass.
Today, 30 years later, Wilson Studios art pieces can be found extensively throughout the Sierra foothills and scattered throughout the U.S. and beyond. Wilson Studios offers custom designed etched art glass for commercial or residential applications, functional decorative art pieces, and personalized gifts and trophies
Click on a picture to see a larger version of this artwork