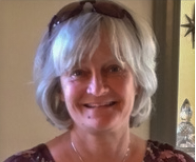 Sue Sommer
I lived my life loving art, music and the theatre but thought I would be doing so as a grateful spectator.
About four years ago I picked up a pencil and was thrilled to find I could draw, and I've been
obsessed, and possessed, ever since.
My life's work was in science. I had the privilege of many assignments, first as a RN and then an MD,
the most noteworthy being twenty years as an emergency room physician and twelve working in a
correctional inpatient psychiatric facility. I loved medicine, but not the bureaucracy, and was happy
to be able to retire from the field with great memories. And I longed to have some time for my drawing.
My teenage son died several years ago, and following his death nature became an extraordinary experience for me.
I became hyperaware of colors, sounds, smells and touches of breeze. To walk outside was to feel
the heat and color of the dirt path, sense and smell each tiny blade of grass, revel in the greens of the
swaying branches, and feel the kiss of sunshine on my face. Unbelievable. That experience was dearly
paid for, and I mindfully try to recreate it when I'm outside with only partial success.
Art brings me closer to this deep sense of nature, and though I enjoy drawing other things I return to the botanicals.
I love vivid colors and rich textures; I year to move the sensuality of nature onto my pages.
I'm supposed to find some philosophy of art but have yet to figure one out for myself. Art is so visual,
so tactile, so sensual and so meditative. The bright colors, the soft smell of the flower next to my desk,
the buttery feel of the pencils and they smooth and play into each other. My easiest subject seems to be fruit
and I find myself challenged not to eat my models as I draw. I also struggled to describe how art makes me
feel and one day that answer was obvious. Remember how it felt to fall in love? That's how I feel when I'm
nearing the end of a piece. Contentment and joy. I feel alive.
So, as you view my work you feel some of the joy I felt in making them. Thank you!
Contact Sue At: SueSommer@earthlink.net
To view Sue's work please click here
Also on her website at: