Terri Wilson
Terri lives in Murphys CA and has been
producing art for a number of years.
Her preferred mediums are oils and acrylics,
although she is also adept in watercolor, pastels,
and graphite. She is bold and playful with color
in her somewhat interpretive style of realism.
She has studied under the many fine artistssuch as Jill Figler,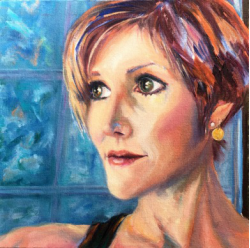 Martha Wallace, Tina Moore, Diana Boyd, Robert Burridge, Milt Kobayashi,
Camille Przewodek, and David Shevlino.
On occasion Terri does scenic art for local theaters, and she won the first (and only)
annual poster contest for the Calaveras County Winegrape Alliance, with her acrylic painting,
"Fresh Abundance" which they continued to use on posters for many years.
In 2015 Terri judged the Amador County Fair Art Exhibition in all art categories except
photography, and was enthusiastically invited back to judge again in 2016.
This past August Terri was one of three judges for the Mistlin Gallery Art Show in Modesto.
You will notice that Terri's style is diverse as she continues to grow and experiment with
new ideas and techniques.