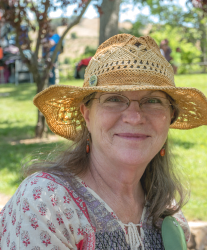 Sheila White
Art has always been a part of Sheila's life, growing up in a log cabin
in the Santa Cruz Mountains to parents who were both artists.
Nature, raising animals, a love of gardening and a profound love of horses
and the outdoors was also a big influence on her creativity.
Learning to paint with watercolors started in high school, with art classes
in Santa Cruz, Art History and Design at Cabrillo College,
botanical illustration classes in Ben Lomond, workshops in the Sierra Foothills
with Columbia College instructor Gerion Rios, and Vienna Watkins,
Martha Wallace, Dale Laitinen. A love of artists like J.M.W. Turner,
Georgia O'Keefe and Marie Gabrielle also made a strong impression on her style.
A career in floral design and paintings by Matisse have also influenced
her vision and creativity expanding her art into intricate paper cuttings as well.
Sheila was lucky to have raised her family where she was raised,
giving her the ability to pass on her love of nature, the outdoors and art to her two sons.
In 2003 she moved to Vallecito and currently lives in Murphys,
giving her plenty of opportunities to explore and paint in the beautiful Sierra Foothills.
She has also taken up photography to not only explore that art form
but to give her more insight into seeing light and composition for her paintings.
She is currently an artist showing at Art on Main in Murphys
and her watercolors and photography have been on display at the Hovey Winery
in Murphys and won First Place awards in the professional division at the Calaveras County Fair.