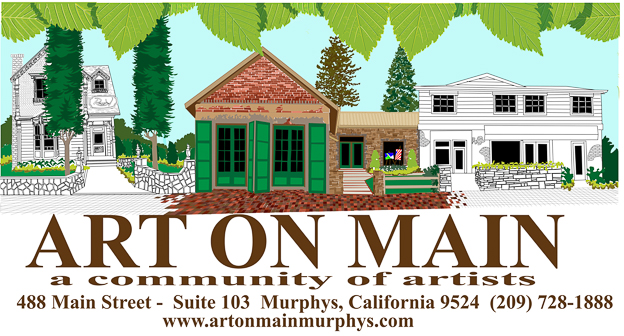 *************** SPECIAL ANNOUNCEMENT ***************

The County has changed our address from "466B Main Street" to "488 Suite 103, Main Street"
to better conform to the other addresses around us, we have not moved,
we are still in the Very same spot on Main Street, hope to see you soon!


Art on Main will be open every day 11 to 4:00
You can also visit our Facebook page to see our artists, their stories and artwork.


Please take a virtual tour of our gallery below.
Art on Main in Murphys is a contemporary fine art gallery, established in 2012,
dedicated to the promotion of artists from Calaveras County and the surrounding foothills.
The gallery displays original art and fine art reproductions,
providing established and emerging collectors with the best of our area's fine art.
The 33 artists who display their art, also work at the gallery, welcoming the public who visit,
providing personal knowledge of the artwork and their fellow artists.
The gallery includes a collection of original oils, watercolors, pastels, etchings, and photography;
as well as sculptures, glass, textiles, and jewelry.
We feature a large assortment of original and printed cards, ready to either send or frame.
Whether considering adding to your own collection, bringing home a memento
of Murphys and the foothills, or buying a gift for family and friends,
Art on Main has an impressive and varied display of beautiful items for the discerning buyer.
Open 5 days a week ~ 11 a.m. to 4 p.m.
Quarterly "Museletter"
Click here to read our past quarterly newsletters
click here to sign-up to our email list
***** Featured Artist of the Month *****
Pat Jennings




***** Also featuring Guest Artists *****
William Poulson and Bobbette Budworth
Gregg C. Hart

Please click on a name below to learn more about each artist and sample some of their work:
Sarah Evans
Annie Fountain
Carol Goff
Christine Halley (Kina)
Tim Hanrahan
Barbara Hardwick
Anita Hellam (la de fajardo)
Susie Hoffman
Suzanne Jeler
Pat Jennings
Janette Jones
Susan King
Linda Lawrence
Stephanie Rose Long
Jane Lucas
Sandra Maurer
Therese and Steve May
Robert Mittenmaier
Ruth Morrow
Erik Olofson
Twyla Olsen
Bambi Papais
Duane Papais
Pam Purselle
Marilyn Richards
Helen Scofield
Amanda Sedgwick-Maule
Sue Sommer
Lori Sturdivant
Linda Swedlund
Gail Szukalski
Joani Taylor
Vienna
Larry D. White
Sheila White
Sharon Wilcox
We are also carrying postcards and prints of the Historic Murphys Hotel by artist Margaret Roberts
Contact us:
Email: info@artonmainmurphys.com

We're on Facebook too! http://facebook.com/murphysartonmain